(Charlottetown, PEI) — Íjè: An Immigrant's Voyage into Prince Edward Island Life, a collection by Elizabeth Iwunwa, has been recently published by Pownal Street Press.

Íjè: An Immigrant's Voyage into Prince Edward Island Life takes its meaning from the Igbo word for journey, and spotlights the narratives of immigrants to Prince Edward Island, shining light on their individual experiences. This collection of personal reflections, interviews, photo essays, and works of art explores the concepts of belonging, imposed and realized identities, cultural traditions, culinary symbols, and living the contradictions of social norms. From chefs to hairdressers, academics to entrepreneurs, Íjè encompasses the resilience of a people inspired to innovate their own community-driven solutions.
Pownal Street Press invites the community to the launch of Íjè, taking place at the Beaconsfield Carriage House on Thursday, March 16th, from 7-9 pm. The launch will present readings by Elizabeth Iwunwa, Nindiya Sharma and Debbie Langston, followed by a panel discussion entitled, "Finding Home: Memory, Place, and Personhood" which will feature three more contributors to the collection, Chef Ilona Daniel, Dr. Charles Adeyanju, and Daniel Ohaegbu, and moderated by the Editor herself.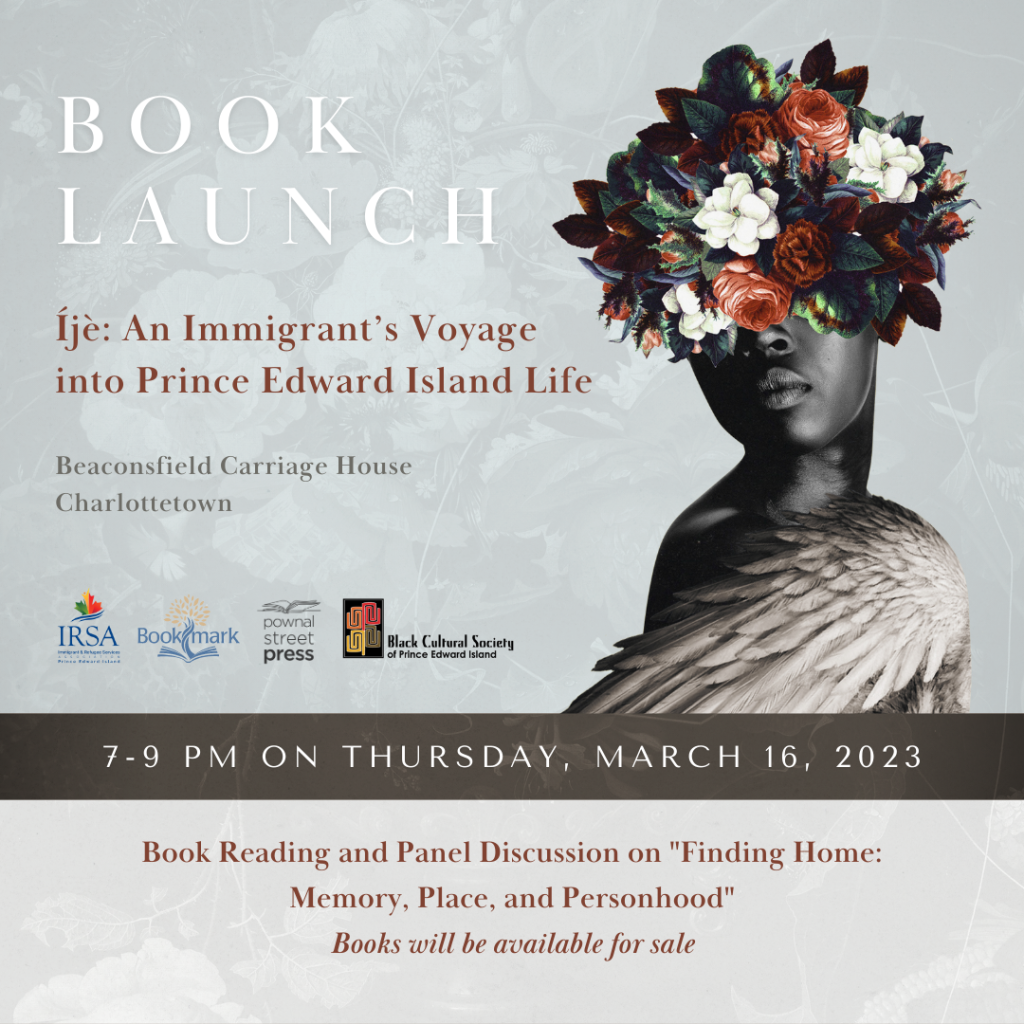 Elizabeth Iwunwa is the right-on-time curator of this righteous assembly of views, interviews, art, and photos, all depicting the Come-From-Far-Away Islanders who have found anchorage in the harbour of Confederation and a new homeland on soil as red and promising as the dawn. Charming and charismatic, personable and penetrating, Iwunwa maps a community of Islanders whose odysseys have taught them that all of Earth is an island, one where we all must find refuge, amid the endless, bone-chilling ocean of space.

GEORGE ELLIOTT CLARKE
Author of Where Beauty Survived: An Africadian Memoir
(Knopf Canada)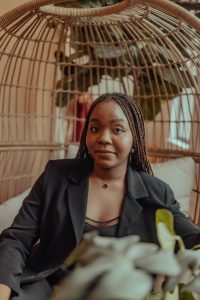 ---
Elizabeth was born in Lagos, Nigeria and moved to Canada where she graduated with a Bachelor of Arts in Psychology and a Master of Business Administration in Global Leadership from the University of Prince Edward Island. Iwunwa is interested in public policy, and specifically how economics, politics, and history affect the lives of everyday people. Íjè is her first full length work. 
A collection as diverse as its contributors, Íjè is a unique new anthology of personal reflections, interviews, photo essays and visual works of art that highlight the stories and experiences of immigrants from around the globe who now live on Prince Edward Island. Íjè contributors include Robin Ghislain Shumbusho, Tolu Adesoye, Rachael Sonola. Art by Chester Hewlett, photography by Oniel Kuku & Ugochukwu Nwafor,  and text by Malak Usman, Charles RuthMary-Ann Lamai, John Shabaan, Martins Madumere, Via Reyes, Shaka-Joshua Tarichia, Mamadou Sanogo & Jonah Chininga. 
Immigration is so much more than simply moving to a new place. Íjè is a brilliant anthology that captures stories rarely considered from the citizen's perspective yet experienced so rawly and felt so deeply from an immigrant's perspective. Íjè is the book that PEI needs in this very moment."

– TAMARA STEELE,
Executive Director of the Black Cultural Society of Prince Edward Island
Íjè showcases innovative, community-driven solutions to common struggles faced by immigrants in the area, as retold by those who lived through the same turmoil. Pownal Street Press wishes to thank our sponsors, the Black Cultural Society of Prince Edward Island and Immigration and Refugee Services Association of Prince Edward Island. Books will be available for sale by The Bookmark.
About Pownal Street Press:
Pownal Street Press is PEI's newest publishing house. Women owned and women led, friendly, warm and professional: Pownal Street Press brings an approachable perspective to publishing books. With decades' of experience, Pownal Street Press Co-Founders, Genevieve Loughlin and Mo Duffy Cobb have extensive publishing backgrounds across editorial, book design, marketing and sales. With distribution through Raincoast Books, Pownal Street Press' titles have national reach but local heart. For more information about the Press and its books, please visit: www.pownalstreetpress.com.