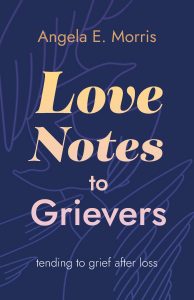 Pownal Street Press is thrilled to showcase the new cover for Love Notes to Grievers: Tending to Grief After Loss. Designed by Jordan Beaulieu of One Stone Studio & Designs, this cover is the perfect entry point for this precious book written as support for the grief that accompanies the death of a loved one.
The touching words of Angela E. Morris are poetic love notes and will provide understanding and healing to the reader. Written following the death of her father, friend, and beloved grandmother, all within a short period, Angela shares them as love notes to remind us to honour your love, and make space for your grief. Angela offers raw, heartfelt reflections in the midst of complexity, and of passing through these life-changing events.
Grief can leave you breathless, aching, and seeking. Morris' losses left her on a quest to understand and make sense of grief, and the only way was to write her way through it. In Love Notes to Grievers you can flip to any page and feel supported in what you are feeling, especially if the people around you don't seem to understand.
Angela E. Morris is a writer and massage therapist who offers people a soft space to land as they navigate their grief. She provides reflective writing on grief, loss and relational inquiry as it relates to grief, and pushes against how the dominant culture reacts toward death. She encourages her readers to walk together through their healing, taking the time to process their pain and to be with their loss, carrying their loved ones with them, and not leaving them behind. Angela currently lives on the traditional territory of the Saanich, Songhees, Wyomilth (Esquimalt) peoples of the Coast Salish Nation (Victoria, British Columbia).
Love Notes to Grievers: Tending to Grief After Loss
by Angela E. Morris
ISBN 9781778124587 • $24.95 pb
Available where books are sold June 13, 2023