It is our absolute delight to present the cover for Íjè: A Voyage into Island Immigrant Life.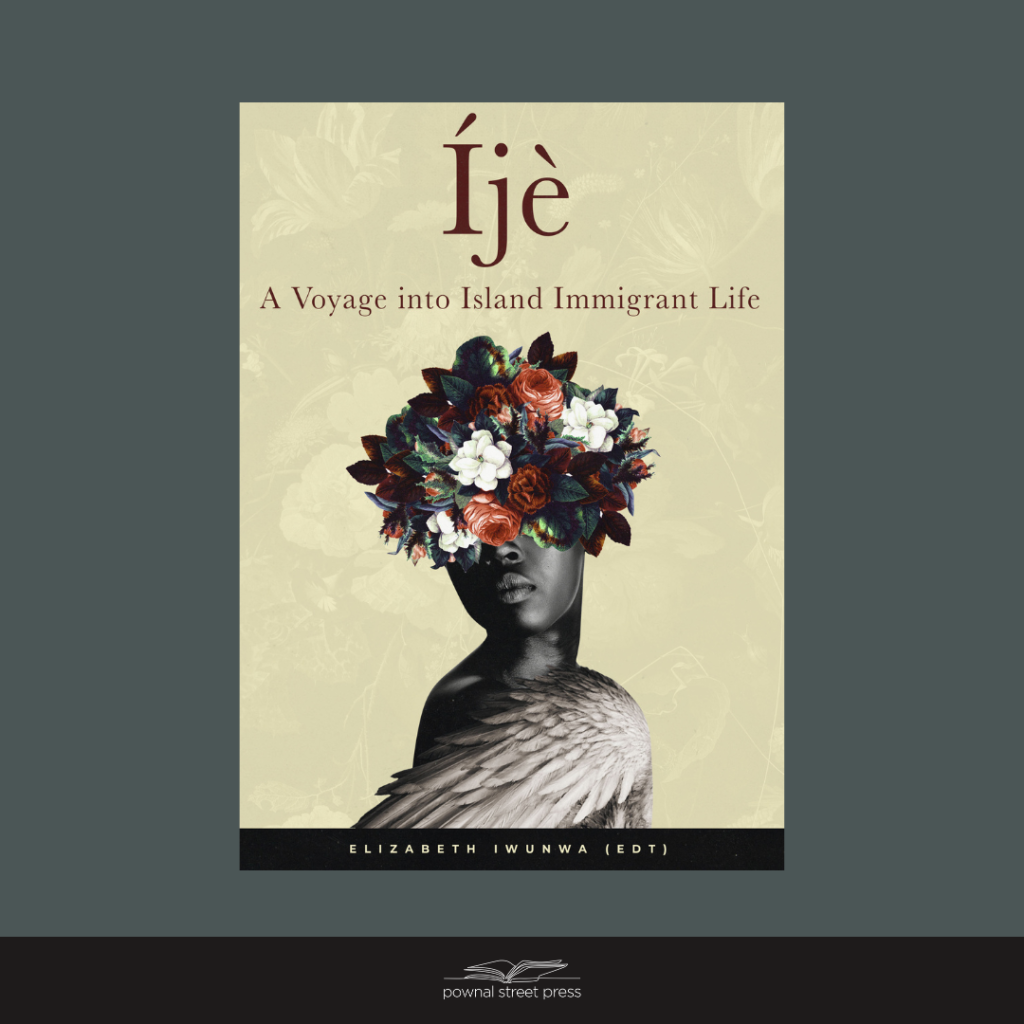 Created by visual artist and design engineer, Niyi Adeogun, it is perfect in every way.
Íjè presents immigrants as people competent to tell their own stories and seeks to enlighten its readers and cause stereotypes to evolve. Author and editor Elizabeth Iwunwa has curated a collection of personal reflections, interviews, photo essays, and visual works of art includes themes of belonging, imposed and realized identities, cultural traditions, culinary symbols, living the contradictions of social norms, and the resilience of a people inspired to innovate their own community-driven solutions.
About Elizabeth:
Elizabeth Iwunwa was born in 1997 in Lagos, Nigeria. After completing her primary and secondary education in her home country, she graduated with a Bachelor of Arts in Psychology and a Master of Business Administration in Global Leadership from the University of Prince Edward Island. Both a fiction and nonfiction writer, her works have been featured in PEI's The Guardian, on CBC, and on her blog at LisaIwunwa.co. Iwunwa is interested in the intersection of culture, politics, and history on the lives and stories of everyday people, and Íjè is her first full length editorial publication.
About Niyi:
Born in Lagos, Nigeria, Niyi has always had a passion for art since 6. He kept this zeal on hold for a while, until 2017 when he decided to go into graphic/digital arts. He finished at UPEI with a B.Sc in Sustainable Design Engineering, which developed his skill in taking a sustainable approach and creating environmental-friendly solutions for clients. Over the past years, Niyi has been involved in project management and execution, creating community-driven events. He also helps brands develop their identities by providing design services and advice based on his experience in creating logos, style guides, startup branding kits, design libraries, social media assets, conceptual and modern art. He is open to working with upcoming and established companies to help provide design and sustainable solutions as well as help achieve their goals. https://www.niyiadeogun.com/
Íjè will be available in bookstores across Canada in February 2023.