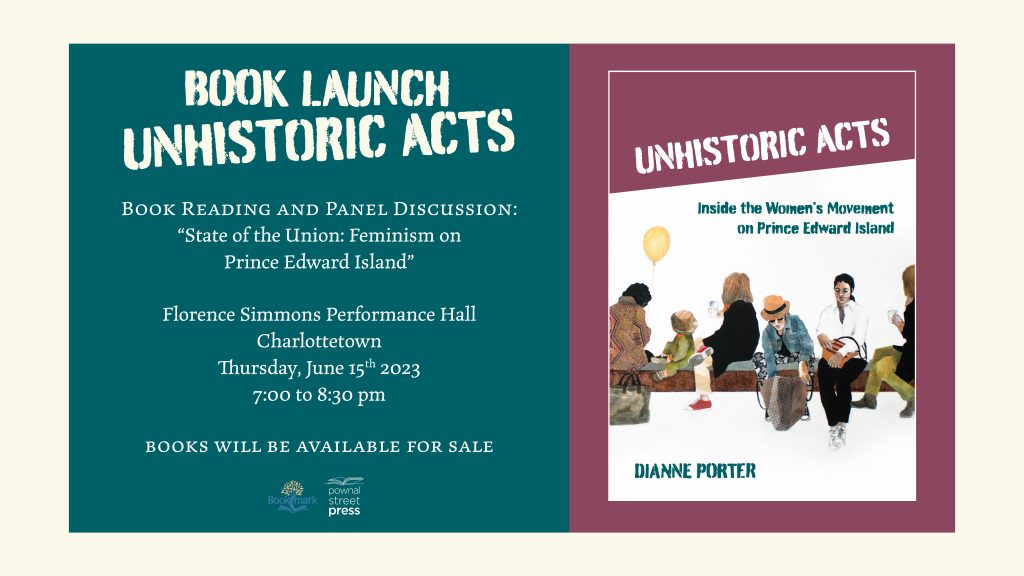 Unhistoric Acts is a first hand account by long time advocate for the women's movement Dianne Porter. Women's equality in Prince Edward Island took time and tireless effort by numerous unsung heroes. Working together as a force for change, Porter honours the 'unsung heroes' of the movement with profiles of front-liners in the fields of early childhood education, politics and social services, which collectively were able to transform the landscape. The title, Unhistoric Acts, is inspired by the work of unheralded women in the 18th-century novel Middlemarch by George Elliot.
This social history takes the reader on a journey of progression in politics and social reform. As an advocate for change and a political advisor in the 1980s, Porter brings us behind-the-scenes to the conversations that finally put women's equality on Prince Edward Island on the table—women in the workforce, child care, and setting up basic minimum standards.
With cover art by artist Beverley Hawksley, this book will serve as an important historical document and primary source in the field of women's studies.
Pownal Street Press invites the public to the launch of Unhistoric Acts, taking place at the Florence Simmons on Thursday, June 15th, from 7-8:30pm. The launch will present a reading by Dianne Porter and a moderated panel discussion entitled, "State of the Union: Feminism on Prince Edward Island" which will feature contributors to the women's movement on PEI.
Unhistoric Acts takes us through Diane's lived experiences from advocacy, involvement in government policy making to network building, introducing the reader to the unsung heroes of Prince Edward Island who created a tapestry of caring.

—Karen Chandler, Leading for Change: Leadership and Administration of Early Childhood Programs in Canada, 7th Edition
In Unhistoric Acts, Dianne Porter, leader in the Island women's movement, has accomplished no small task — a history of the women's movement in the province since the 1970s. Through the frank chronicling of her own journey, Dianne has woven into her story many of the women she worked with to bring about societal change. By leading causes such as the call for better child care, early childhood learning, political accessibility, equal wages, and confronting difficult subjects such as domestic violence, rape, and women's reproductive rights, all Islanders have benefited from a more caring, just, and stronger Island society where many voices are heard. While there is still much ground to cover, I am hopeful that in reading Unhistoric Acts, many younger Island women will continue to make the Island women's movement part of their story in building a better Island and a better world.

—Catherine Callbeck, 28th premier of Prince Edward Island from 1993 to 1996.
Dianne Porter's work in equality issues in Prince Edward Island is monumental. With a Masters of Arts in Canadian Studies, Dianne was a Founding Member of the Canadian Child Care Federation and the first Executive Director of the P.E.I. Interministerial Women's Secretariat. She worked on the front lines for early childcare reform. Dianne was the  chair of the PEI Coalition for Women in Government and she worked on the prevention of violence against women and children.  In addition she was the Treasurer and Board member of Women's Network. A tireless advocate and a passionate leader, Dianne is a member of the Order of P.E.I., Advisory Council and has made it her life's work to improve the lives of women, both on the front lines and behind the scenes. Dianne has worked as a lecturer in gender studies at Carleton University, and in leadership roles at Red River Community College and Holland College. Dianne lives in Charlottetown, Prince Edward Island.
Unsung Hero Contributors:
Claire Arsenault, Department of Secretary of State, Women's Program
Lyle Brehaut, Founder and Coordinator, Rape and Sexual Assault Crisis Centre
Jan Devine, Anderson House Worker, a shelter for abused women and children
Eileen Doyle, Volunteer in politics
Kathleen Flanagan, Early Childhood Education Expert
Ruth Lacey, Camp Counselor and Program Director, Appin Road Children's Camp
Sara Roach Lewis, Women's Network, Women in the Trades Program
Kirstin Lund, PEI Coalition for Women In Government
Anne MacCallum, Women's Network, Publisher Common Ground
Cathy MacCormack, Early Childhood Development Association, Canadian Child Care Federation, Child Care Program – PEI Government
Elayne MacLaine, Women in politics
Dianne Hicks Morrow, Women's Network, Rural Workshops, Women's Festivals
Lisa Murphy, Executive Director, Advisory Council on the Status of Women
Anne Nicholson, Chairperson, Advisory Council on the Status of Women
Louise Polland, Policy Analyst, PEI Women's Secretariat
Ann Sherman, Executive Director, Anderson House Planning Committee, Community Legal Education Association
Gaylene Smith, Dental Assistant Educator
Andy Lou Somers, Executive Director, East Prince Women's Information Center
More advanced praise for Unhistoric Acts:
Unhistoric Acts documents Dianne Porter's remarkable life – a life characterized by commitment, determination, and courage. Whether behind the scenes or front and centre, Dianne has always found ways to collaborate with disparate groups and individuals on a common purpose – to improve the lives of Island women and their families. In Unhistoric Acts, Dianne turns the spotlight on women who have played a pivotal role in advancing gender equality in Prince Edward Island.

—Dr. Katherine Arnup PhD author of I don't have time for this! A Compassionate Guide to Caring for your Parents and Yourself
Dianne's focus on sharing her own experience in the feminist movement, while amplifying the voices of the others, is inspiring. Unhistoric Acts is an important account of how Island life has been transformed by the people, the policy work, and the advocacy that led to where we are today.

—Sara Roach Lewis, author of She Rules: What You Didn't Know is Holding You Back in Business
Dianne Porter provides a rare glimpse into the history of the women's movement in PEI from a personal perspective of one who was immersed in advocating for issues of social justice, equity, and family supports. Her own experiences are woven through the reflections of her colleagues and friends who – as "unsung heroes" – have influenced life as we know it in PEI in the 21st century.

—Kathleen Flanagan, PhD Candidate & Lifelong Childhood Education Specialist

Unhistoric Acts: Inside the Women's Movement on Prince Edward Island
ISBN: 9781778124570
$34.95 Paperback
On Sale Where Books are sold: June 6, 2023
Pre-order your copy HERE.
About Pownal Street Press:
Pownal Street Press is PEI's newest publishing house. Women owned and women led, friendly, warm and professional: Pownal Street Press brings an approachable perspective to publishing books. With decades' of experience, Pownal Street Press Co-Founders, Genevieve Loughlin and Mo Duffy Cobb have extensive publishing backgrounds across editorial, book design, marketing and sales. With distribution through Raincoast Books, Pownal Street Press' titles have national reach but local heart. For more information about the Press and its books, please visit: www.pownalstreetpress.com.