Reg Goes Swimming
$29.95 Hardback
ISBN: 9781738818235
On Sale: August 1, 2023
www.pownalstreetpress.com
Reg is a bear whose name rhymes with EGG! He likes to climb trees, eat snacks, and sleep. The day is full of possibility as Reg emerges from his winter slumber, but as we all know, life is full of challenges. Although Reg is desperate to get to his beloved creek, a few obstacles stand in the way. How will Reg react to the challenges of the day that throw him off kilter? Think wise thoughts and feel your feelings, his older sister Co-co reminds him.

"And so, he does."

Pownal Street Press is delighted to announce this title being released on August 1st, 2023. Pre-sales have already begun on Lori's author website. Stay tuned for more updates on Lori's August book launch on Prince Edward Island!

"What a priceless gem! This book, beautifully illustrated by Emma Martin,
is a well-researched and resourced guide that provides children valuable
tools in naming, understanding, and regulating their emotions. Ms. Gard
describes how to apply these regulating strategies in an easy to understand,
playful, and absolutely delightful story. Reg the black bear is a loveable
character and I look forward to future instalments of his adventures!"
—Dina Bednar, MA, RP, RMFT-SM, CSFT,
Associate Director of the SFBT Certificate Program,
University of Toronto & Co-Director of the Canadian SFBT Centre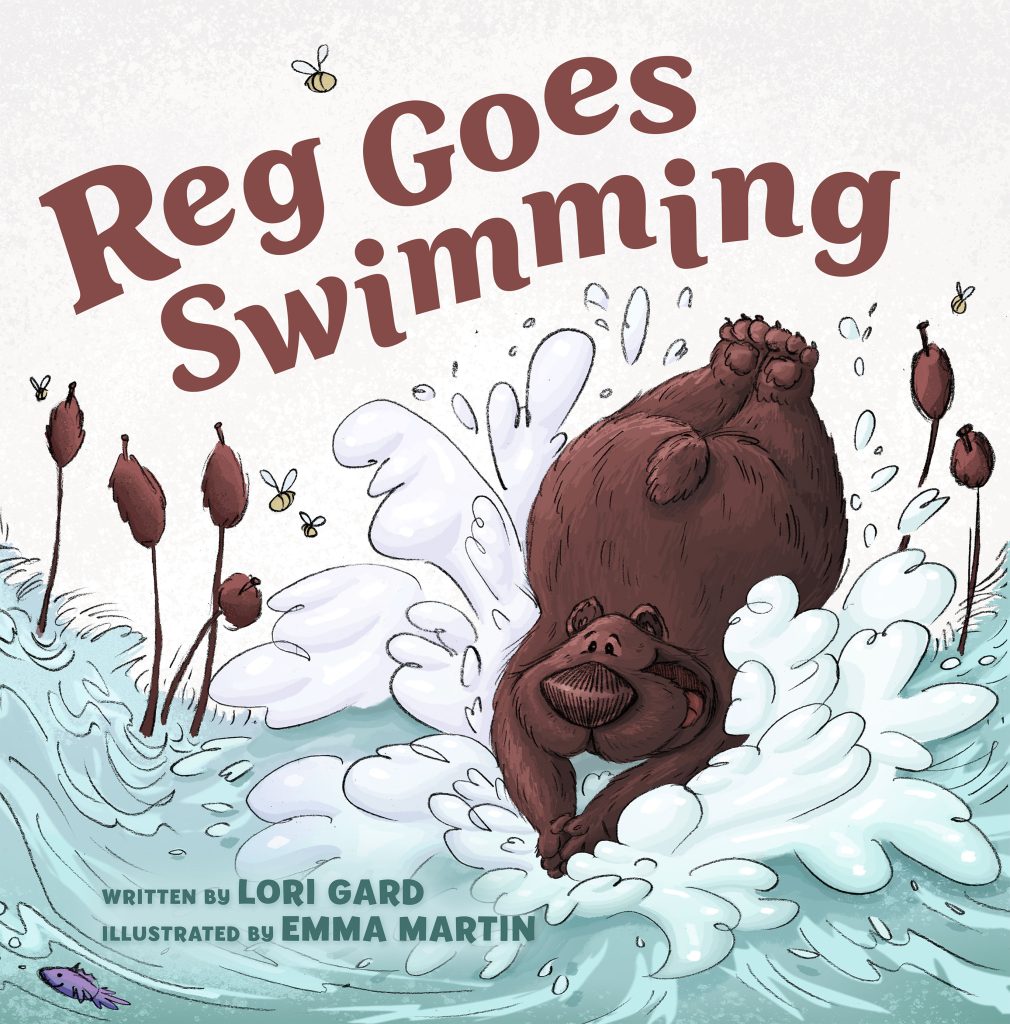 About Lori Gard & Emma Martin
Lori Gard is a Canadian Certified Counsellor and a nationally certified Solution Focused Brief Therapist with CCPC Global with a certificate in Solution Focused Brief Therapy through OISE at University of Toronto. She is currently pursuing her Advanced Certificate in Couple and Family Therapy at The University of Guelph and has a Masters of Science degree from the University of West Alabama, and a Masters of Education from the University of Prince Edward Island. Lori specializes in working with children and their parents, as well as with youth, teenagers, couples, and families. She lives in Prince Edward Island with her husband and four children. Reg Goes Swimming is her first children's book.

Emma Martin is an illustrator, fine artist, and appreciator of all things whimsical. When she's not making art, you can find her working as a barista at a local coffee shop finessing her latte art skills. Learn more about Emma and her art at www.emmalouillustrations.com.
About Pownal Street Press
Pownal Street Press is Charlottetown's newest independent publishing house. Inspired in name by the iconic Charlottetown street, a charming mix of modern and historical, Pownal Street Press is symbolic of the evolution of the publishing industry. The mission of Pownal Street Press is to discover, amplify and empower storytellers, and seeks to broaden the publishing landscape with a diverse collection of topics and tones.