The Adventures of Angus Macdonald set to release on Tuesday, October 17, 2023 and is be available where books are sold.
Meet Angus MacDonald, the world's most witty and disgruntled Scottish Terrier. Angus takes center stage in this lovely little gift book by Lisa Child Hughes. A well-loved character first conceived of in the nineties, Angus was introduced to the world in the Toronto newspaper, Urban Pets. Angus's stories will appeal to all ages, but will be especially resonant with dog lovers. An ode to the classic stories of James Herriot or Charles Schulz, the book's illustrations and tone will delight and entertain. You can also follow Angus on Instagram @angusmacsbook.
A portion of the proceeds from this book will be donated to Sheba's Haven Dog Rescue, an organization in Kingston, Ontario which rescues palliative dogs with life-limiting non-curative illnesses so that they can live out their lives in a well balanced, caring environment.
To celebrate the launch, Pownal Street Press and author, Lisa Childs Hughes, invite dog lovers and book readers to a virtual launch of The Adventures of Angus MacDonald on November 8, 2023 at 7:00pm EST.
Hosted by Pownal Street Press, Founder, Mo Duffy Cobb, it will be a wonderful event to celebrate Angus' publishing debut. More event details can be found here.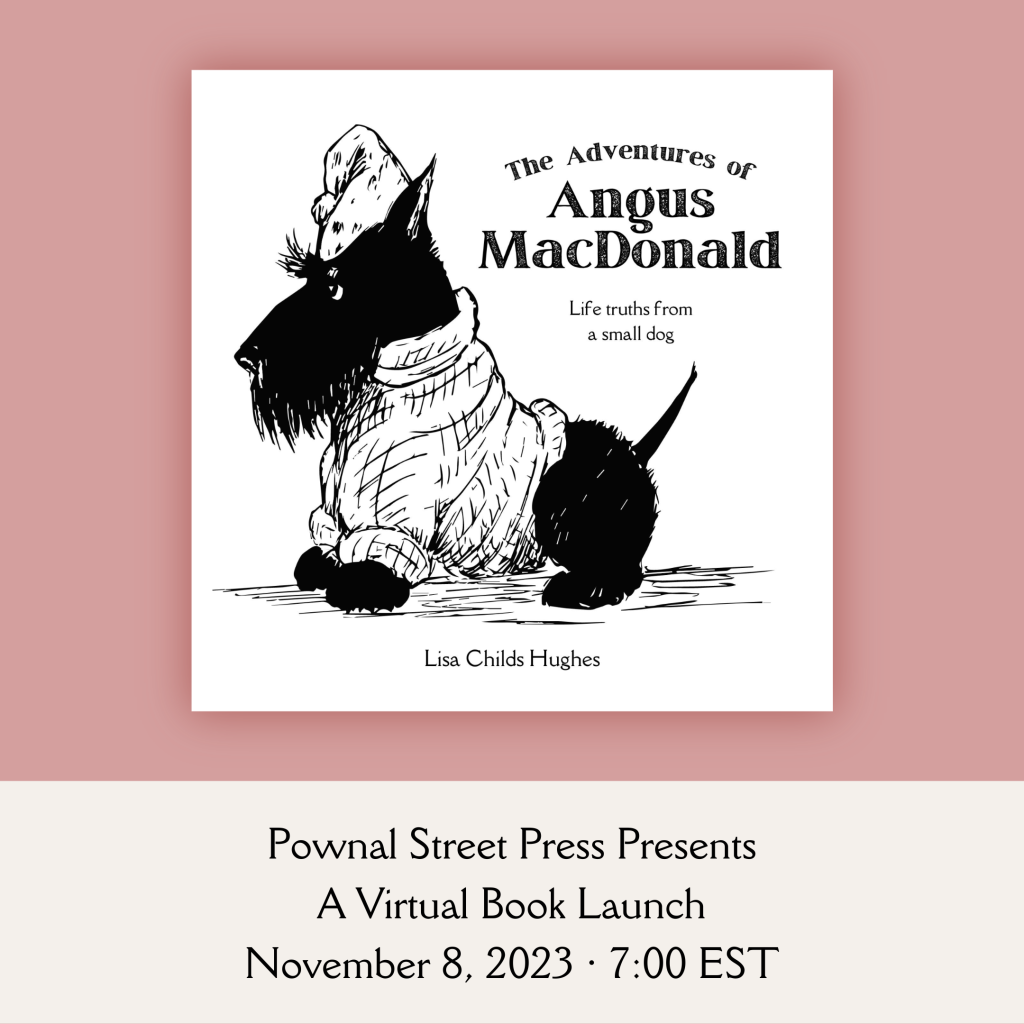 Lisa Childs Hughes
Lisa Childs Hughes is a passionate pet lover and animal advocate. With illustrations by Lisa's late mother, Pauline Thu, Angus MacDonald is a composite of all the dogs she has had in her life; sweet, funny, smart and maybe a little grumpy. Lisa volunteered and was on the Board of Directors with the Kingston Humane Society and currently volunteers with Sheba's Haven Dog Rescue to which this book is dedicated.
A long-time health care worker, counselor, and holistic practitioner, with an honours degree from Queen's University, Lisa is also a Life Coach (Fowler Institute, Seattle, Washington) and a Practical Nurse. In addition, she hosted her own radio show for two years called Women's Word. Lisa's written for health magazines, including seven years with Complete Health Magazine. She's written editorials for The Kingston Whig Standard and has won two CBC writing contests (poetry). She recently moved back to her hometown of Belleville, Ontario.
The Adventures of Angus MacDonald
$26.95 Hardback
ISBN: 9781738818242
On Sale: October 17, 2023
Pre-order HERE
About Pownal Street Press:
Pownal Street Press is Charlottetown's newest independent publishing house. Inspired in name by the iconic Charlottetown street, a charming mix of modern and historical, Pownal Street Press is symbolic of the evolution of the publishing industry. The mission of Pownal Street Press is to discover, amplify and empower storytellers, and seeks to broaden the publishing landscape with a diverse collection of topics and tone