Pownal Street Press is excited to announce the following events in celebration of the Prince Edward Island publication of Reg Goes Swimming by author Lori Gard.
Written by Lori Gard and illustrated by Emma Martin, Reg Goes Swimming is a book with a message that supports parents and children in learning how to self-regulate their emotions.
Join Lori and Pownal Street Press as we celebrate on Monday, Aug 7th from 6:30-8:30pm at Alberton Arts & Heritage Centre and on Tuesday, Aug 8th from 6:30-8:30pm at the Island's picturesque Beaconsfield Carriage House. The author will present a short reading accompanied by musical guest, Carla Butt and books will be available for sale.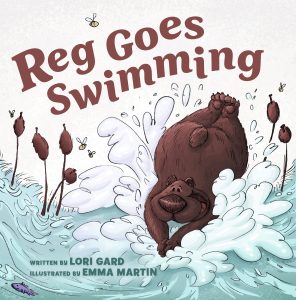 Reg — short for Regulate and pronounced with a hard /g/ — is a black bear cub who likes to climb trees, eat snacks, and sleep. Most of all, Reg loves to swim in the creek. After waking up from his winter's nap, he heads for a swim. Alas, obstacles slow him down, and as the story unfolds, Reg experiences and learns to regulate his emotions.
At first glance, Reg Goes Swimming is a story with a simple message around feelings, but there are deeper lessons for the reader. Throughout his day, Reg moves from being emotionally dysregulated by negative stressors to thoughtful self-regulation, where he returns to a state of calm.
Reg uses three useful self-regulation techniques to regulate his emotions: positive self-talk, belly breathing, and reframing. In every situation, Reg thinks out loud to examine his feelings and comes up with easy, practical solutions for his struggles. Once the solution for each of his problems has been identified, Reg returns to a state of contentment.
Reg Goes Swimming will be available in bookstores across Canada starting January 2024.
About Lori Gard & Emma Martin
Lori Gard is a Canadian Certified Counsellor and a nationally certified Solution Focused Brief Therapist with CCPC Global with a certificate in Solution Focused Brief Therapy through OISE at University of Toronto. She is currently pursuing her Advanced Certificate in Couple and Family Therapy at The University of Guelph and has a Masters of Science degree from the University of West Alabama, and a Masters of Education from the University of Prince Edward Island. Lori specializes in working with children and their parents, as well as with youth, teenagers, couples, and families. She lives in Prince Edward Island with her husband and four children. Reg Goes Swimming is her first children's book. Learn more about Lori and order your copy of Reg Goes Swimming at lorigard.com.
Emma Martin is an illustrator, fine artist, and appreciator of all things whimsical. When she's not making art, you can find her working as a barista at a local coffee shop finessing her latte art skills. Learn more about Emma and her art at www.emmalouillustrations.com.
Reg Goes Swimming
$29.95 Hardback
ISBN: 9781738818235
On Sale: August 1, 2023
Pre-order your copy on Lori's website
About Pownal Street Press:
Pownal Street Press is Charlottetown's newest independent publishing house. Inspired in name by the iconic Charlottetown street, a charming mix of modern and historical, Pownal Street Press is symbolic of the evolution of the publishing industry. The mission of Pownal Street Press is to discover, amplify and empower storytellers, and seeks to broaden the publishing landscape with a diverse collection of topics and tones